Cable assemblies
To insure success, OTS not only has a select few qualified vendors that meet our rigorous demands, but also has a proprietary pressure chamber test unit to simulate the above environment.   Through use of this test chamber, OTS can repeatedly simulate conditions to diagnose issues and confirm solutions for custom designs.  This pre-application testing provides a critical benefit to our customers.
OTS cable assemblies can be either molded, wrapped, or sleeved.  Molded cables are primarily found in the harsh environment situations.  Wrapped and sleeved cables are generally quite complex and have multiple connector ends.  The most common applications for these are on test sets or in less harsh environments where one main connector feeds a multitude of other connections.  Both types of cables have been a part of our torpedo product line for the past 25 years.   Given the rigors of our harsh environments and the experience gathered in our torpedo technology, OTS welcomes the challenge to design, test, and produce your most difficult cable assemblies.
Electro Mechanical Assemblies
The electro mechanical capability provided by OTS is a derivative of the need to manufacture and support the propulsion system of various torpedoes.  The propulsion system is a hotbed of interface between mechanical components of operation and the electronic interface of the front end or "command" center of the torpedo.  In short, it is the ability to get the electronic signal to make a mechanical operation occur.  The difficulty is that this action takes place in an environment that is facing depth pressure of a submarine that is trying to outrun it.  The result is a high heat situation whereby the integrity of the assembly is being thoroughly challenged. 
The first stage in manufacturing such assemblies is in the design and production of the assembly.   Given the 25+ years of our Naval experience, we often draw upon our past to design the future.  This experience was started during the "Golden Age of Technology," when thoroughly understanding principles and trial and error was the rule of thumb.  Today's technology is more computer and computer modeling driven.  Considering the background of OTS personnel, our customers are able to experience the best of both worlds.  Due to pressure, moisture, or extreme conditions, the lessons learned in bonding, flexibility of parts, and interrelation between the part and its environment become the techniques of manufacture.  Quite often we find such techniques from one application are directly applicable to another.
Where required, OTS maintains the capability to test your electro mechanical assembly in a high temperature and high pressure hot oil test environment.  A proprietary test set developed to evaluate components for the torpedo is maintained to verify the success of the assemblies manufacture.  When this test set is not applicable, other customized testing is developed to insure the success of the component.
Some examples of critical components OTS has manufactured in the past include:
Velocity Sensor Switch
Speed Control Valves
MK 122 Mod 0 Arming Safety Switch  (PN 2288036, NSN 1325-00-883-9021)
High Pressure Shells
The continued Ocean floor exploration increases the need for submersible shells that can withstand significant pressure.   As discussed in the Unmanned Underwater Vehicle (UUV) section, the transition from torpedoes to UUVs is a direct progression resulting in two types of vehicles, both withstanding significant depths, for two different purposes.  Significant technology has been utilized to manufacture these high pressure shells to:
Withstand pressure
Minimize drag
Comprise various lengths and diameters
When looking to other applications for this technology it could be one, two, or all of these critical aspects that are significant.  The techniques for overcoming these aspects are based upon many years of torpedo technology in a high pressure and fast movement environment.  Expertise in both design and manufacture are easily transferable via the personnel and equipment found both in-house, and on call at OTS.
OTS' shell coating process is certified to Weapon Spec WS 22351 and is one that very few manufacturers commercially certified to perform this process.  This low temperature coating process is unique in that it does not challenge the integrity of the material below and has been a successful part of the torpedo program for 20 years, thus indicating its continued proof of manufacture.
As a 25+ year small business, we have the ability to evaluate your requirements in an all encompassing manner; designing your needs with manufacturing in mind.
Harsh Environment Keyboards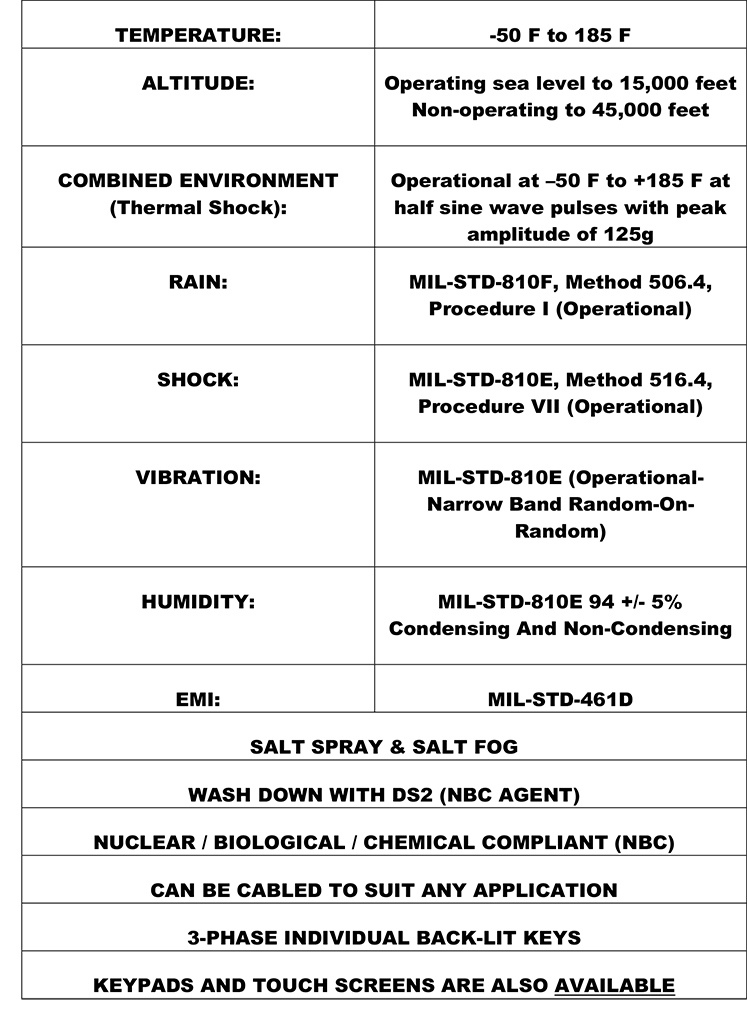 In addressing the need of a customer, OTS and a key vendor developed a keyboard that is practically indestructible.   One of few keyboards to pass all testing listed below, this unit maintains a connection that is hermetically sealed (waterproof) and mil-spec strong so as to not pull out of the unit, which is traditionally the weakest point.  In contrast, the cable can also be removed from the keyboard for ease of transportation.   Backlighting on the keyboard is at two different levels, with an emergency "blackout" switch.
In addition to the above keyboard, a host of other keyboard designs can be developed for custom applications.  Each can be tested to the same specifications listed below and can include harsh environment cable assemblies.    Customized, harsh environment solutions to specific data input designs are just another aspect of transferring technology from the torpedo to other applications.  OTS welcomes the opportunity to evaluate your requirements and help find custom solutions.
KEYS ARE BACK-LIT AT 3 LEVELS
HIGH / LOW / OFF
KEYPAD AND TOUCH SCREEN UNITS ALSO AVAILABLE